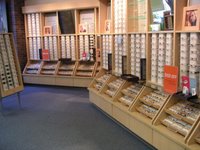 Is it too much to hope that 2006 will be the year retailers figure out how to treat customers with online coupons? Starbucks didn't exactly raise the bar with its now-you-see-it, now-we-don't-take-it
fiasco
. And now
Lenscrafters
shows its own blurry vision.
I've submitted this humble retail tale to my favorite consumer advocacy site,
Consumerist.com
:
Question:

When is an online coupon not a valid coupon?



Answer:

When it's on a Blackberry!

My wife and I found a sweet $75 off coupon at

Lenscrafters

.com. We found it on our Blackberry, driving up I-5 at 75 MPH. (I was driving, she was Blackberrying.) I just had an eye exam and needed new glasses. In about an hour.

Needless to say, we didn't have a printer in the car, so we called the nearest

Lenscrafters

, at the Glendale Galleria, to see if that would be a problem. We reached Oscar.



Oscar:

It's not a problem.

Mrs. Newbie: Are you sure? Should we save the page and bring my Blackberry into the store?

Oscar: That's a good idea.

Mrs. Newbie: Should I ask for you when we get there?

Oscar: Yes.

It turns out the phone number for the Glendale Galleria

Lenscrafters

doesn't actually reach the Glendale Galleria

Lenscrafters

. No one named "Oscar" works at the Glendale location. We had reached "Oscar" at a distant call center.

And it turns out "Oscar" was lying. "Yeah," said the Glendale manager, "we have that problem a lot."

So it turns out you

cannot

just show Lenscrafters their coupon on your Blackberry. You must exit the store (

Lenscrafters has no

Internet access, they said, though they offered to email my exam results), drive home, print it out, drive back and hand in the printed coupon.

Even though the coupon code is the same whether you view it on screen or on paper. And even though the presumed marketing objective of the coupon - getting people to visit

Lenscrafters.com

- works either way.

But no matter. There are trees to kill! And $500 orders to lose!

When will retailers catch up?